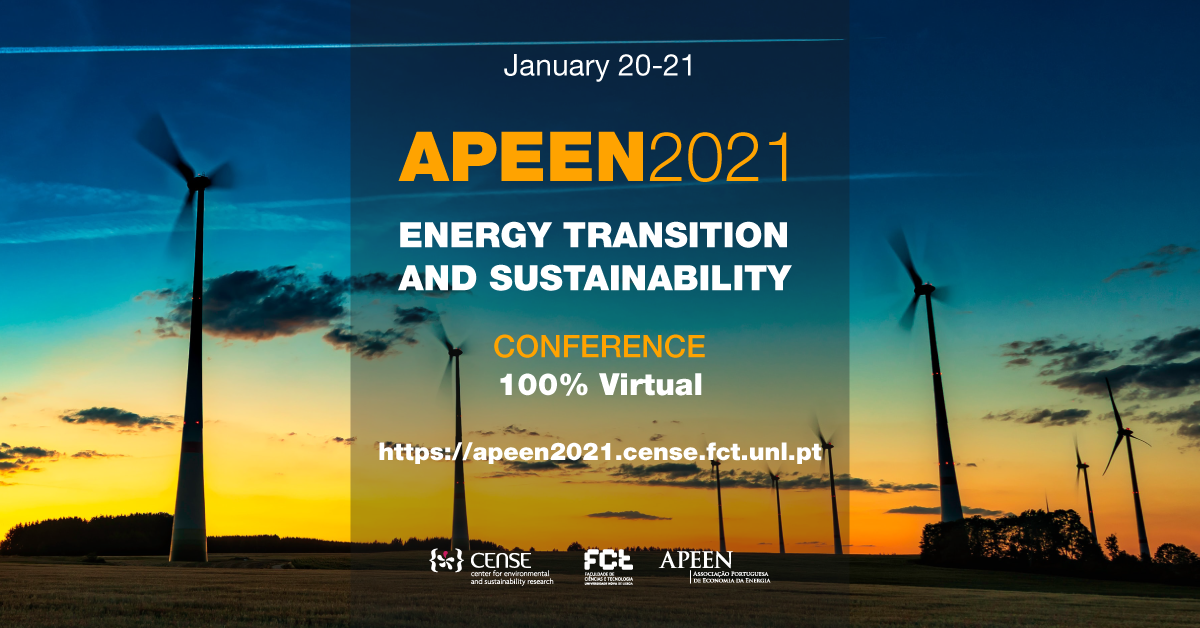 REGISTER NOW!
5th Annual Conference of the Portuguese Association of Energy Economics (APEEN)
20th - 21st January 2021
The 5th Annual Conference of the Portuguese Association of Energy Economics (APEEN) is fully dedicated to all aspects of the Energy Transition and Sustainability. Climate change and sustainability are challenging energy systems to new levels of innovation, in terms of technology, regulation and social values, among others. The 5th APEEN conference aims to join leading academic scientists, researchers, innovators and business and social stakeholders, through an interdisciplinary context to present, share and discuss the most recent experiences, research results, innovations and ideas around the multiple topics on Energy Transition and Sustainability.
The 5th APEEN conference will take place on 20-21 January and will be held online.
More then 45 scientific articles and posters will be presented, from authors coming from 10 countries, covering a diversity of themes such as energy in the cities, electricity markets, clean mobility, energy communities, energy economics, innovation and management of supply.
The conference will have a keynote by John Drexhage, consultant in climate change and sustainable development, and main author of the World Bank report "Minerals and Metals to Meet the Needs of a Low-Carbon Economy". APEEN2021 will also have the debate "Transição Energética em Portugal: como valorizar a inovação técnica e social?" (Energy Transition in Portugal: how to value the technical and social innovation?), moderated by Jorge Vasconcelos, and which will gather policy-makers, companies and scientists to explore the mechanisms and options that Portugal can adopt so that the energy transition can be a competitiveness booster of the Portuguese economy.
APEEN 2021 is organized by CENSE - FCT NOVA, having as sponsors EDP, GALP and Público.
Supporters: ADENE – Agência para a Energia, APREN – Associação de Energias Renováveis, BCSD – Conselho Empresarial para o Desenvolvimento Sustentável, and the specialty Portuguese magazines Indústria e Ambiente, Edifícios e Energia and Smart Cities.
FULL PROGRAM AND REGISTRATION AT THE CONFERENCE WEBSITE: https://apeen2021.cense.fct.unl.pt/
In the media: