CENSE & FCT NOVA hosted APEEN 2021 – Energy Transition and Sustainability, the 5th annual Portuguese Association of Energy Economics (APEEN – Associação Portuguesa de Economia da Energia), between 20th and 21st January 2021.
APEEN 2021 Conference was sponsored by EDP – Energias de Portugal, GALP and the newspaper Público. It also had the support of a number of partners: ADENE – Agência para a Energia, APREN – Associação de Energias Renováveis, BCSD – Conselho Empresarial para o Desenvolvimento Sustentável, and media coverage by Portuguese magazines Indústria e Ambiente, Edifícios e Energia and Smart Cities.
APEEN 2021 was fully dedicated to all aspects of the Energy Transition and Sustainability. Through an interdisciplinary context, it joined leading academic scientists, researchers, innovators and business and social stakeholders, to present, share and discuss the most recent research results, innovations and ideas across the multiple Energy Transition and Sustainability subjects. It also aimed at strengthening connections among academia, industry, regulators, authorities and policymakers, as a contribution to achieving sustainable and carbon-neutral energy systems.
The organizing committee was chaired by Júlia Seixas and composed by Francisco Ferreira, Inês Cosme, Joana Monjardino, Luís Dias, Patrícia Fortes and Rita Lopes. Other CENSE researchers collaborated with the Organizing Committee during the event: Paulo Pereira, Sofia Teixeira, Teresa Brás, Pedro Palma and Miguel Sequeira.
It was a 100% virtual conference, which gathered 114 participants from 7 different countries (Portugal, Germany, Cape Verde, Netherlands, Brazil, Spain, Poland and the United Kingdom), both from research institutes and the private sector. The conference was spread in two half-days, filled with 48 presentations across 16 parallel sessions.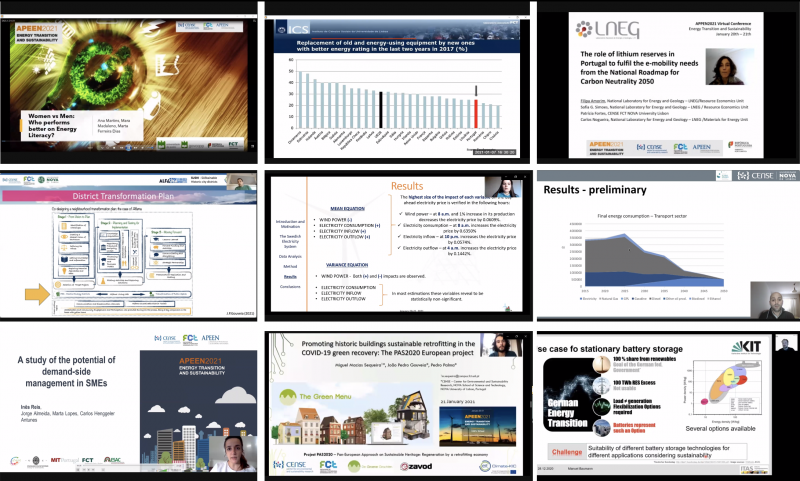 It also counted with two interactive sessions: a networking session on the first day with an active debate promoted by GALP on "The Future of Mobility: Hydrogen, biofuels and electrification" and a dynamic poster session on the second day.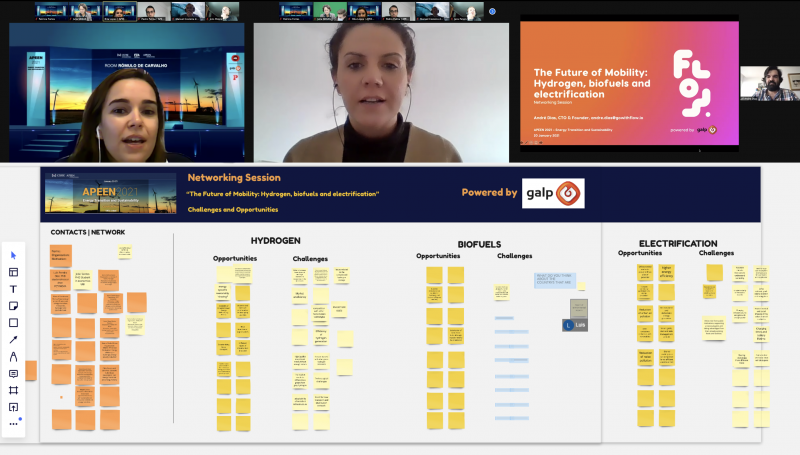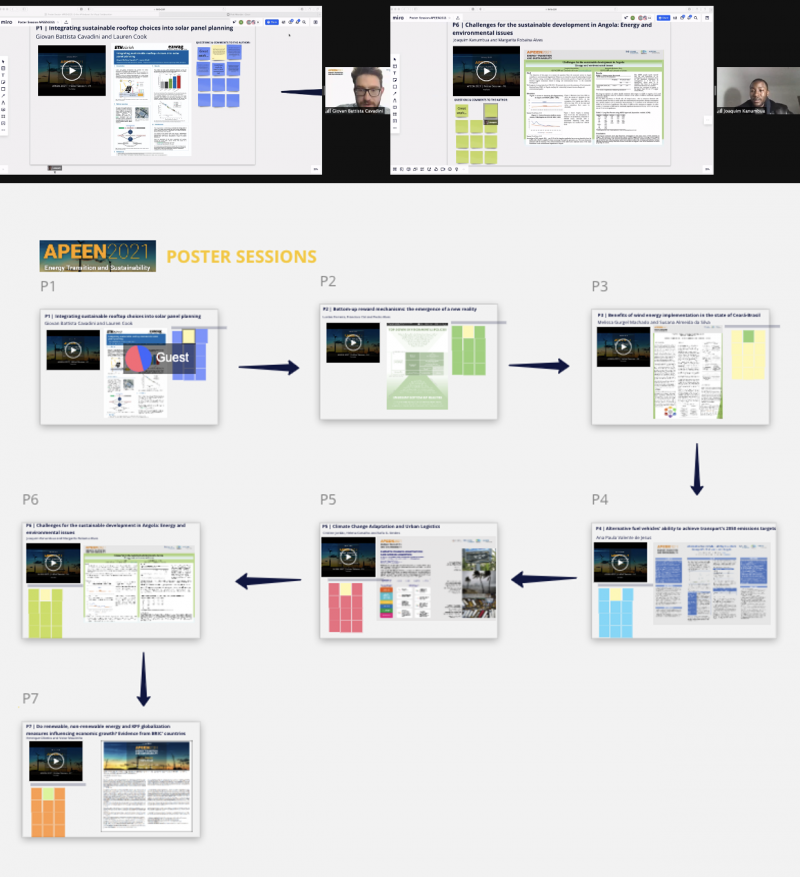 One of the premier moments of the conference was the keynote presentation by John Drexhage on "Minerals for Climate Action: The Mineral Intensity of the Clean Energy Transformation" (you can read the summary on Jornal de Negócios, in Portuguese).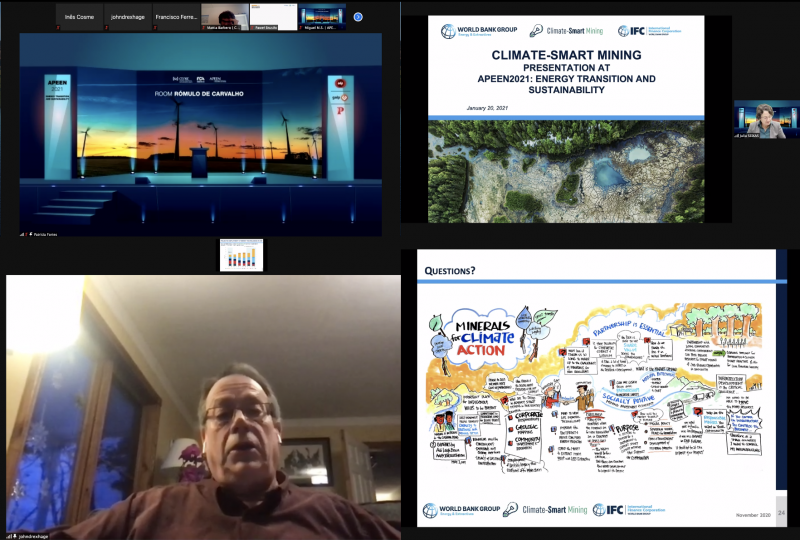 The other special session was the debate on "Energy Transition in Portugal: how to value the technical and social innovation?" (Transição Energética em Portugal: como valorizar a inovação técnica e social?), moderated by Jorge Vasconcelos. It gathered João Galamba (Deputy Minister and Secretary of State for Energy), Luís Matias (Mayor of Penela), Pedro Neves Ferreira (EDP), Sandro Mendonça (ISCTE-IUL) and Sofia Pinto Barbosa, (economist) to explore the mechanisms and options that Portugal can adopt so that the energy transition can be a competitiveness booster of the Portuguese economy. This debate was streamed online by Público (you can watch it here).

The closing session included the delivery of the APEEN Young Research Prize and the Student Best Paper Prize. The winners were: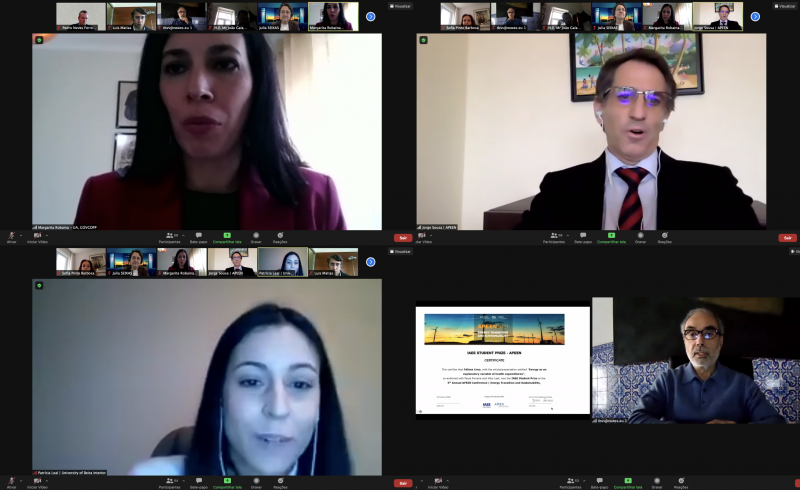 Several CENSE members presented their research at the conference:
Patrícia Fortes, F. Amorim, S. Simões - "How the future climate affects the portfolio of the future Portuguese power sector"
João Pedro Gouveia, Pedro Palma, H. Duarte, H. Luz, Júlia Seixas - "Positive Energy and Sustainable Historic District: Exploring the case of Alfama Lisbon"
F. Amorim, S. Simoes, Patrícia Fortes, C. Nogueira - "The role of lithium reserves in Portugal to fulfil the e-mobility needs from the National Roadmap for Carbon Neutrality 2050"
Pedro Palma, João Pedro Gouveia, R. Barbosa - "A Cost-Effectiveness Analysis of the Portuguese Building Stock Energy Efficiency Renovation"
Luís Dias, Júlia Seixas - "TIMES_CITYWEF – Integrated city energy, water and food model"
Katherine Mahoney, João Pedro Gouveia, Rita Lopes - "Energy poor and powerless? Exploring the use of stakeholder analysis to assess power dynamics in the Portuguese carbon neutrality agenda"
Miguel Sequeira, João Pedro Gouveia, Pedro Palma - "Promoting historic buildings sustainable retrofitting in the COVID-19 green recovery: The PAS2020 European project"
Check the full program of the conference here!
In the media: