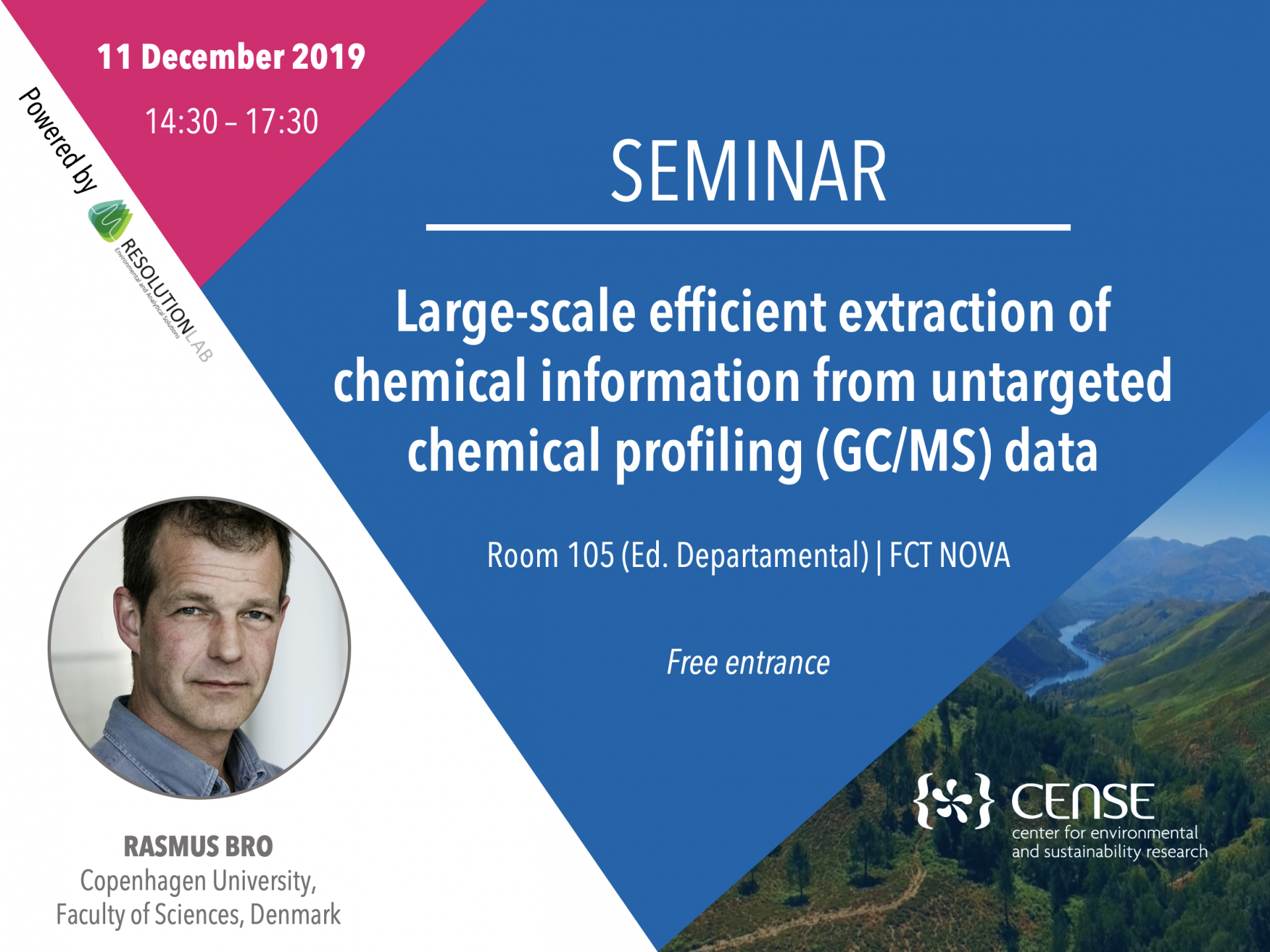 "Large-scale efficient extraction of chemical information from untargeted chemical profiling (GC/MS) data" with Rasmus Bro, full professor at Copenhagen University, Faculty of Life Sciences, Denmark. Organized by CENSE and Resolution Lab members.

Date: 11 December 2019, 14:30h-17:30h
Room: 105 (Edifício Departamental, 1st floor, FCT NOVA)
How to get here: https://www.fct.unl.pt/faculdade/como-chegar-fct
GC/MS data may be challenging due to the high complexity of data including overlapped, embedded, retention time shifted and low S/N ratio peaks. This course will provide tools for processing raw data, namely GC/MS data as well as solutions for analysts dealing with complex chromatographic data. It allows extraction of chemical/metabolite information directly from the raw data and provides automatically methods to perform peak identification based on deconvoluted mass spectra using integrated NIST search engine, generating an identification report.
He is performing research on most aspect of chemometrics and in particular on multi-way analysis both from a theoretical and a practical point of view. He is heading an industrial research consortium, ODIN, focusing on Process Analytical Technology (PAT) and has also started a new master of science in the same area. His primary fields of research are Chemometrics, Data Mining, Multivariate Calibration, Classification, Multi-way Analysis, Exploratory Analysis, Experimental Design, Fluorescence spectroscopy, Numerical Analysis, Spectroscopy, Metabonomics, Process Analytical Technology and statistical analysis of complex chemical and analytical data produced by fluorescence, NMR, GCMS, NIR, HPLC etc. He has made contributions in fields such as environmental analysis, metabolomics, process analytical technology and others. His research has been implemented in numerous software packages and utilized in disciplines varying from clinical studies, gastronomy, oil refining, brewing, dairy analysis, medical and health research and many others. He has been an editor on Journal of Chemometrics for many years and is the author of a number of matlab toolboxes that are made available at www.models.life.ku.dk.